Going to, Making Do, Passing Just the Same

With François Lemieux

Installation, videos, book, performances and public discussions

Leonard & Bina Ellen Gallery (Montreal)
For more than two hundred years, [Indigenous people] have been asking the [English] surveyors the same question, and they are still waiting for an answer… And the sky? Why not also put up fences around the air you breathe to keep your neighbours from being buffeted by the same winds that blow over your parcels?


This project was born from a need to question our ways of living and to sketch an answer to the question: how do we anchor ourselves in a world colonized by the devices, temporalities, and modes of being of the capitalist economy? With a small group of collaborators, an investigation into our material conditions of existence is initiated—what are these territories where we live and how do they organize us?

Collecting images, soil and wild plants, Brunette and Lemieux survey the liminal spaces that shelter the little visible but crucial infrastructures of our white lifestyle in conquered and destroyed territory. From objects and recordings collected in Bécancour (Gentilly II decommissioned nuclear power plant), Roxham (point of entry into Quebec for irregular immigrants), Thetford Mines (former asbestos mining site) or the Atlantic Ocean (seen from a cargo ship), from conversations with philosophers, activists and migrant workers, the artists built an installation in the gallery where the oil industry meets herbalism, where the border administration meets the anti-prison movements.

In collaboration with Marisa Berry Méndes, Suzanne Beth, Érik Bordeleau, Dalie Giroux, Catherine Lavoie-Marcus and Amélie-Anne Mailhot, Diane Roberts, Catherine Lavoie-Marcus, Remy-Paulin Twahirwa, Susy Basile and Nayla Naoufal.
Presented at the Leonard & Bina Ellen Gallery (Montreal) in 2021
Accompanied by the publication
Going to, Making Do, Passing Just the Same ↗
and the introduction text
Residing in What is Coming Undone ↘
by Edith Brunette and François Lemieux.
Review of the exhibition (in French):
Edith Brunette et François Lemieux,
Aller à, faire avec, passer pareil ↘
by Josianne Poirier, Espace.

Made possible by the precious support of the Leonard & Bina Ellen Program in Support of Artistic Production and the Canada Council for the Arts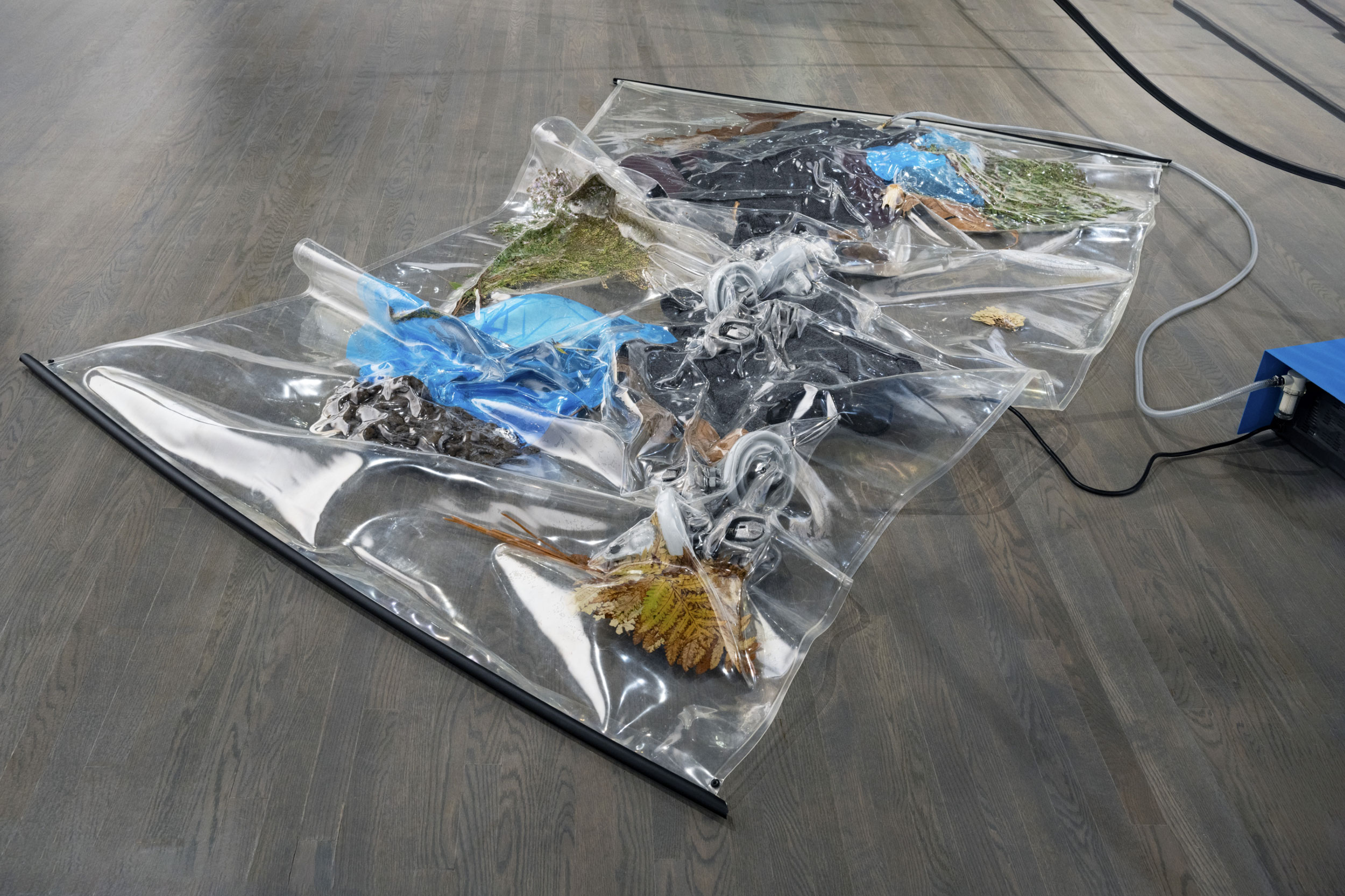 Going to, Making Do, Passing Just the Same
Steel structure, flowers and earth from various origins (Gentilly, Île Verte, Kamouraska, Lac Mégantic, Lévis, Montreal, Roxham, Saint-Vallier, Thetford Mines, Yellowknife), vinyl floor, pump, laminating bag for wood, neon, bamboo and found objects

Navigations
Digital colour prints laminated on aluminum;
fabric-covered frame

Going to, Making Do, Passing Just the Same
HD video and 16mm color film digital transfer, format 16:9, stereo sound, 20 min.
Direction: Edith Brunette and François Lemieux
Sound design: Simon Grenier-Poirier

Risque de danger
HD video colour, format 16:9, stereo sound, 10 min. ; a copy of Keller Easterling's book Extrastatecraft: The Power of Infrastructure Space, adhesive
tape, and flowers